I have a small face – what type of glasses should I wear?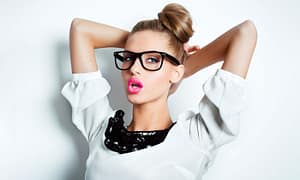 Although style is a personal choice we've put together some tip to help those of us with smaller faces to choose the perfect pair. The demand in different types of frames and designs in on an ever increase and designers are getting creative in meeting the demands of the wearers and their face shapes.
Our in-house stylists have put together some top tips to help you choose the perfect pair.
Avoid glasses with a thin frame. Picking a thin frame will narrow your face further and the glasses will look ill fitted. Our team of stylists will be on hand to guide you through the latest trends and designer brands we carry. Many designer brands have a range for smaller faces and its easier to find a pair to suit your face type.
Pick glasses that have details on the temples or accents or are deep horn rimmed. This will style your face symmetrically and give your face a balanced look.
Pick a frame that's roughly up to 50mm in diameter. Frames come in different widths and a smaller width will fit a thinner face better.
A frame that is a wide oval or rectangular will work your face shape outwards rather than thinning your face down further. It will accentuate your check bones.
Choosing the right pair of glasses is a very unique and personal experience. Glasses should compliment your personality and at the same time provide you with a high level of comfort. Our dispensing opticians are at hand to give you the best advice and are trained to help you find the perfect pair, whatever your face shape. Book a consultation with us today.