Do polarized sunglasses really make a difference?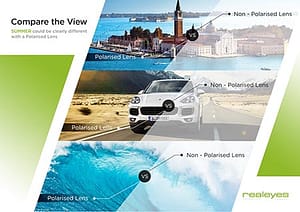 Sunglasses make a great fashion accessory to any wardrobe but more importantly their job is to protect your eyes from UV rays which could prevent cataracts, macular degeneration and common eye strain.
Normal sunglasses provide basic protection against both vertical and horizontal UV rays. However, they don't diminish the glare from reflected horizontal rays. This is something a polarised lens can do.
You may have seen polarised lens adverts and wonder what the hype is about. A polarised lens reduces glare that normal sunglasses cannot do. Particularly on sunny days, objects in the distance appear hazy or nearby vehicles are reflecting light in a way that is nearly blinding. A polarised lens removes the effects of glare by blocking reflections.
Daily wearers of polarised lenses say this improves eye comfort and allows you to take in the view without squinting. It's great if you have sensitive eyes or are prone to migraine because you won't find yourself squinting anymore. Since your eyes aren't constantly challenged by glare, it is easier to view objects in bright conditions.
If you are a water sport enthusiast, you'll enjoy wearing polarised lenses. Fishermen and boaters love polarised sunglasses. The special material makes it easier to see into the water clearer. Without polarised lenses, the water's surface simply reflects everything around it. This obscures the view into the water almost completely. Polarised lenses block this reflection and enable the wearer to see the contents of the water instead of the sky. People often find that wearing polarised lenses on the beach allows them to see clearly, especially parents who like to lie on the beach whilst their children play in the sea.
But they're not only for the summer. Skiers love polarised lenses too. If you love hitting the slopes choosing polarised lenses is ideal if you struggle with the sun's bright glare off the white snow and shiny ice. It also improves the contrast of colours and provides a higher-definition view of your surroundings.
Maui Jim offers a selection of durable, lightweight polarised sunglasses that allow you to see the world in truly vibrant, glare free colour. These are available now available in our Whitton branch. If you are interested in polarised lenses our in-house experts can talk you through the benefits further. We think you'll be sold. Book an appointment now by clicking here.