Can I really eat my way to healthy eyesight?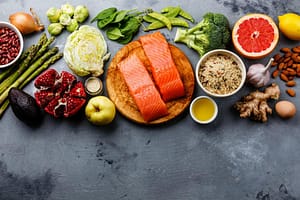 Yes, that's right, what you eat does impact your eyes! Having a healthy, balanced diet not only keeps you in good shape but also affects the functionality of the eyes. Read on and find out more.
OMEGA-3 FATTY ACIDS
Main Benefits
Lowering blood pressure
Reducing inflammation
Reducing risks of heart attacks and strokes
Benefits for the eyes
Crucial role in visual development and retinal function
Helps reduce dry eyes
Reduced risk of macula degeneration (largest cause of blindness)
Reduces the risks of diabetic retinopathy
Reduced risk of glaucoma
Food containing omega-3 fatty acids
Oily fish (mackerel, salmon, sardines)
Flaxseeds
Chia seeds
Walnuts
Soybeans
LUTEIN & ZEAXANTHIN
Main Benefits
It can slow the progression of age related macula degeneration
Reduce the progression of nuclear (central) cataract
Reduces glare sensitivity
Food containing Lutein & Zeaxanthin
Kale
Spinach
Basil
Lettuce
Asparagus
Broccoli
VITAMIN C + E
Main Benefits
Reduced immune system deficiencies
Reduced cardiovascular disease
Reduces skin wrinkling
For the eyes
Reduces risk of cataract
Reduces risk of age related macula degeneration
Food containing
vitamin C and E
Peppers
Guava
Strawberries
Mango
Sunflower seeds
Kale
Orange juice
Pomegranate
Pumpkin
Tomatoes
VITAMIN A AND ZINC
Main Benefits
Normal functioning of the immune system
Regulation of gene expression
Embryonic development
Improves cardiovascular health
Supports reproductive health
Avoids depression
For the eyes
Reduces risks for macula degeneration
Reduces risks for dry eyes
Food containing
vitamin A and Zinc
Red Meat
Poultry
Pumpkin seeds
Chick Peas
Carrots
Sweet Potatoes
Kale
Cocoa powder
Cashews
There are a lot of supplements available which incorporate these vitamins and minerals, however sourcing them from natural products is highly recommended. It's cheaper and tastes better too!
However, do remember, nutrients are most potent when they come from food rather than supplements. Having a healthy well-balanced diet will incorporate a good amount of the nutrients required to keep your eyes healthy.
Written by our in-house optometrist Zainab Kanani, who is based at our Wembley store.